Another week has almost flown by, where does the time go? I have been busy making cards but no video this week, will work on the video's for next week. From my last post someone asked that I do a video on matching patterned paper to your image and ways to make a great card, will work on that video first, then move on to the tour of my craft area and other tutorial type videos.
You might have noticed a new button to the left of this post, at the top of the page, "Follow me on Pinterest." Yes, I have really fallen for Pinterest! Love how easy it is to find just amazing things and also share what you find, have been pinning away over there like crazy. (Pinterest is an online bulletin board of sorts, you scour the web for images of things you like then pin to your boards, you can have numerous boards on many topics, like cooking, card making and so on. People see your "pins" and like them and share, you see their pins and can like and repin as well.)
What a week! My girlfriend and I are working on a cool project that will launch the AfterHoursStamper store, stay tuned, I think you will like our first original offering! It is going to take a while for us to get everything we need together, but two things 1,) it will be something that experienced and novice crafters can use and 2.) we are working on keeping the price very affordable. We are in the development stage, but hope to get everything together within the next month of so.
Oh, and I won a prize! Every week
Factory Direct Craft has a contest on their facebook page
, and last week I was one of the winners, am impatiently awaiting my box of goodies : ) When I get the box will take a picture for you. Factory Direct Craft has some
great prices on ribbon
(yesterday I was in a fabric store and couldn't believe how much the small rolls of grosgrain ribbon cost). Their site has all sorts of things for general crafting and their pricing is very good.
In my web-surfing I happened to find that
Jennifer McGuire
(who is simply amazing) has an
online class for Clean and Simple cards
! Yes, I signed up ($25 for the class which started at the beginning of January, the fee entitles you to a lifetime access to the class), the class runs for two weeks and is filled with all sorts of inspiration. Am LOVING the clean and simple ideas for card making, beautiful cards with little effort, small amount of supplies and huge wow factor! Here are three cards that I have made for the class, we are on day 9 so I have some catching up to do : ) (each day there are at least three examples of techniques and videos, as well as downloads).
Using water color paper: Stamped image and saying in versamark, then added clear embossing powder, heat set. Added distress ink to a foam blending tool, then sprayed some glimmer mist on my craft sheet and dipped the foam with ink into the glimmer mist. Placed the blending tool on the card and as I was applying the ink I turned the handle to get softer edges. I did the blue, then the green and the middle color last. Sprayed the entire piece with water to get more blending of colors.
Same technique as above, this time the image is placed on top using black ink and clear embossing powder. This time I did not turn the blending tool, wanted crisper lines for pattern, sprayed the image with water after to get a more blended look. This was an easy card to make and the results are very nice!
This card was designed after viewing one of the classes which discussed having one focal point, the butterfly was stamped on water color paper, colored with H20's and then I sealed the image with glossy accents.
You can still sign up for the class, and in my opinion it is worth every penny of the $25 : )
Now, onto the link list for this week, and do I have a TON for you! My "January" bookmark folder is getting so long that I will need to start a "January 2" soon!
FREE Strathmore Online Art Classes
: Yes, signed up for this as well, all three of these classes and can't wait to dive right in. Card making/scrapbooking, paper crafting...all of these things are based in the fundamentals of art, expanding your art knowledge base helps you to become a better paper crafter.
Free Scrapbook printables
: A few nice printouts you can use on your scrapbook pages.
.
Free digital paper
: Really nice paper, and make sure you check out how you can print in 6x6 size as well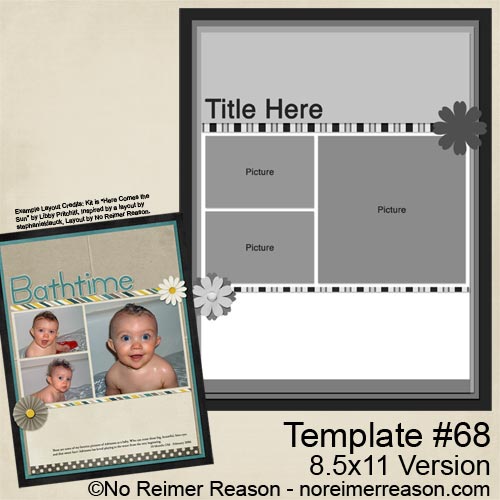 Free scrapbook sketches:
Loved these, very nice and easy to use!
And more FREEBIES!
Page layouts, papers and embellishments.
FREE Digital Stamps
: GREAT site with tons of free digital stamps, she adds to her blog all the time so keep checking back. Wonderful resource!
How to use Heat and Stick powder: I love heat and stick powder, but you have to be really careful about not overheating the powder when you heat, thought the following was a good video to show you how to use the powder:
And a few CHA links:
Technique Tuesday
: New stamps! Can't wait to see this collection.
Fiskars interchangeable border punch:
YEAH! For those of us who have limited storage this is a GREAT idea, the punch has removable cartridges for borders which makes storing them oh so nice!
Donna Salazar
: Loved her mixed media items! Birdcage in Chipboard is soooooo cool! Watch her video to see everything she has coming out.
Tim Holtz Stamps
: Just LOVE these retro stamps, so cool for cards and scrapbook pages!
PHEW! That is all for today, hope you like the links, next week I have a tip for you, stumbled across it by accident, and it "saved" one of my projects.
And I LOVE when you leave comments! Please let me know what you think of the links this week and if there are other topics/types of links you would like me to post.
Have a great week, happy crafting : )