Summer has officially arrived! The joys of summer, long days of sunlight, walks in the evening, lots of outdoor parties, enjoying a cool drink on the patio, the list goes on and on. Of course there is also the heat, but fortunately for those of us in San Jose our heat is usually limited to a few days at a time.
Don't forget that Summer CHA is just around the corner, I will be posting links to all the sneak peaks as I find them, there seems to be lots of cool things heading our way this year, stay tuned! (One CHA link today, more to follow).
Because I don't have enough to do (insert laugh track), I have taken on writing a column for the Examiner, signing up as the San Jose Paper Crafter : ) I would be honored if you
stopped by the Examiner online
and took a quick look at the article I just posted there on a local art studio, "A Work of Heart," that has tons of classes for kids (and adults). If you are in the San Jose, CA area you should check out this studio, location and other information can be found in the article.
Before I go on with the links, wanted to let you know that I have entered the world of "Cricut" with my first purchase of a Cricut Create : ) My new toy is still in the box, will be playing with it later tonight (my birthday was a little bit ago and used the bday money to purchase). I was able to get the machine for $38.01 plus $12 in shipping on Ebay. It is an opened box, and we shall see if the thing works. Have also bought a few cartridges, two, for $20, also on Ebay (I refuse to pay full price for the carts).
If you have any suggestions on "must have" carts, please let me know in the comments, I would be very interested in what you recommend : )
Ok, enough of this and that, how about some links (which is why I am sure you stopped by today : ). Here we go:
Studio Calico
: A wonderful site for all sorts of inspiration, tutorials, lots of scrapbook ideas and more, you are going to love the things you find here.
Summer CHA 2011 Sneak Peeks
: The granddaddy of sneak peek links for all things Summer 2011 CHA! Lots and lots of new things coming our way, make sure to check this link often for updates of new sneak peeks for Summer CHA 2011. There are not many links listed yet, but as the time draws near this list will grow (tempting your wallet to shrink).
Cardmaking 101:
Great site (I posted this on Facebook as well), all sorts of tutorials and wonderful information.
Honeycomb Stamps:
These stamps are designed to be used with honeycomb paper, check out the video and view the stamp sets, love this site. You can also
buy the paper at this site
(a bit cheaper, but the link is only for the paper, no stamps). This link was on Facebook as well.
Get it Scrapped:
The link takes you to a post on their site that has 50 links to ideas for scrapbooking (many of which can be used for card making as well). Make sure to tour the entire site as there is a huge amount of information here for you.
Cricut Cartridges:
The link is to Ebay and wow can you save money buying the cartridges here! As soon as I hear from you about the best cartridges I will be spending a bit of time on Ebay : ) Watch for the carts you want and then start bidding (many of the carts do not charge for shipping, which saves you even more money).
Making an ink pad swatch ring
: From Get it Scrapped (like I said, lots of GREAT information on that site). Loved this idea and it is pretty helpful when you are trying to match a certain paper or color scheme.
Posy Patch Stamp and Die
: Love these stamps on "It's Cheaper than Therapy," make sure to visit the main page for more stamp/die sets, makes card creating/scrapbooking so much easier ! The dies are below the stamps, and the stamp set is very reasonably priced!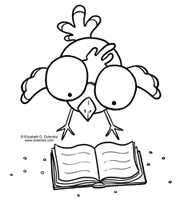 Adorable Free Digital Image
s: New images are added on Tuesdays, and you will just drool over some of these! I loved the Bird reading the book (shown to the right), there are lots more images, so take a look and have some fun! Scroll down to see the images.
Craft Gawker:
Lovely collection of links to all things crafting, and I do mean all things! A real treat for the eyes, click on the pictures to be taken to the blogs/sites.
That is it for this week, don't forget to
read the article posted at the Examiner,
let me know what you think and what you would like me to write about over there.
And thank you all for your continued support and visits to this little crafting corner of the internet. Have a great week, check the
AfterHoursStamper Facebook page
for daily links, and see you next week.