Good morning (or afternoon/evening). Hope all is well in your neck of the woods, here we are finally getting some winter, a bit of rain and wind, though it isn't going to last too long. Have come to realize that 2012 will be known as the year without winter : )
Well, I have been working on videos (and some crafting), finished one finally, though it still isn't what I hoped it would be, and am working on another how to video, needless to say I am not happy with my first 10 attempts and will be redoing that video yet again...sigh. It is not easy to video and get all the information within 10 to 15 minutes! It is also hard to keep your images "on camera," don't even get me started on how many times I have heard myself say "mmmmm," just not good!
Anyhow, today I am sharing with you a video of my little crafting area, and lots of links for craft organizing: )
Here is what my craft area looked like when it was first put together, about four years ago:
And then it went to this:
And now it looks like this:
Yes, I know, lots of things in a small space, but I am happy in the area and even though I could move into a spare room, well, I have become attached to being in my cozy corner : ) Having such a small area forces organization, and yes, it is just as easy to "lose" things in a small area as a large area : ) My area is fairly well organized, it has to be or I couldn't move.
Finally, as promised, here is the video of my little crafting area:
Now, onto some links on fantastic craft room organizing! If you are lucky enough to have a room, or if you just have to steal space from a room (like me), or if you have to store your things and craft out of a closet, well, there are sure to be ideas for you in the links below:
Craft storage on a budget:
Loved these ideas, great way to repurpose all sorts of everyday things for your crafting storage!
Craft closet:
What great ideas here, for either a craft closet or a crafting room!
12 Craft Storage ideas:
Wonderful ideas on how you can store some of your craft supplies.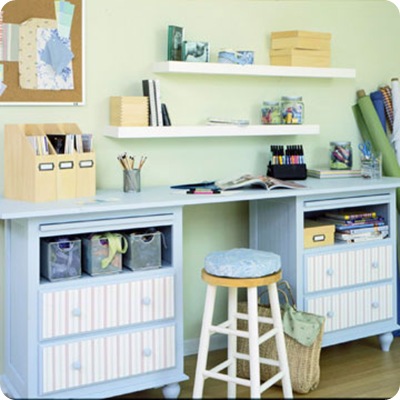 DIY storage projects
: Again, some wonderful inspiration here and some of the ideas look fairly easy to put together. The picture shows how someone took two end tables and used them to create a crafting desk, just lovely!
More DIY storage:
Loved some of these ideas, very cute and easy!
Stickles
: What a great way to inexpensively store your Stickles! You could also paint this to jazz it up a bit.
Craft Room Ideas and Storage:
WOW! An entire board on Pinterest that has nothing but great ideas! I spent over an hour here looking at these fantastic ideas!
More storage ideas:
I loved the double-decker table storage, if I had room that would be in my area : )
Another great repurposing storage idea:
This is so cute and functional, loved it!
Crafty Storage Blog
: I have been following her blog for years, and while she isn't posting as much as she used to, there is just tons of ideas on her blog from years past (have this link on my side bar as well.)
Would love to see some of your craft areas, if you have pictures or videos of your space leave a link in the comments : )
I hope you enjoyed the post today, don't forget that I pin lots of things over at Pinterest and also try to post a link at least once a day on my
Facebook page
(some of the links end up here as well, but not all of them).
Enjoy the rest of your week, happy crafting : )